Sir MVIT College Road, Bangalore
Spacious Homes with Uncompromising Grandeur: Welcome to After the Rain by Total Environment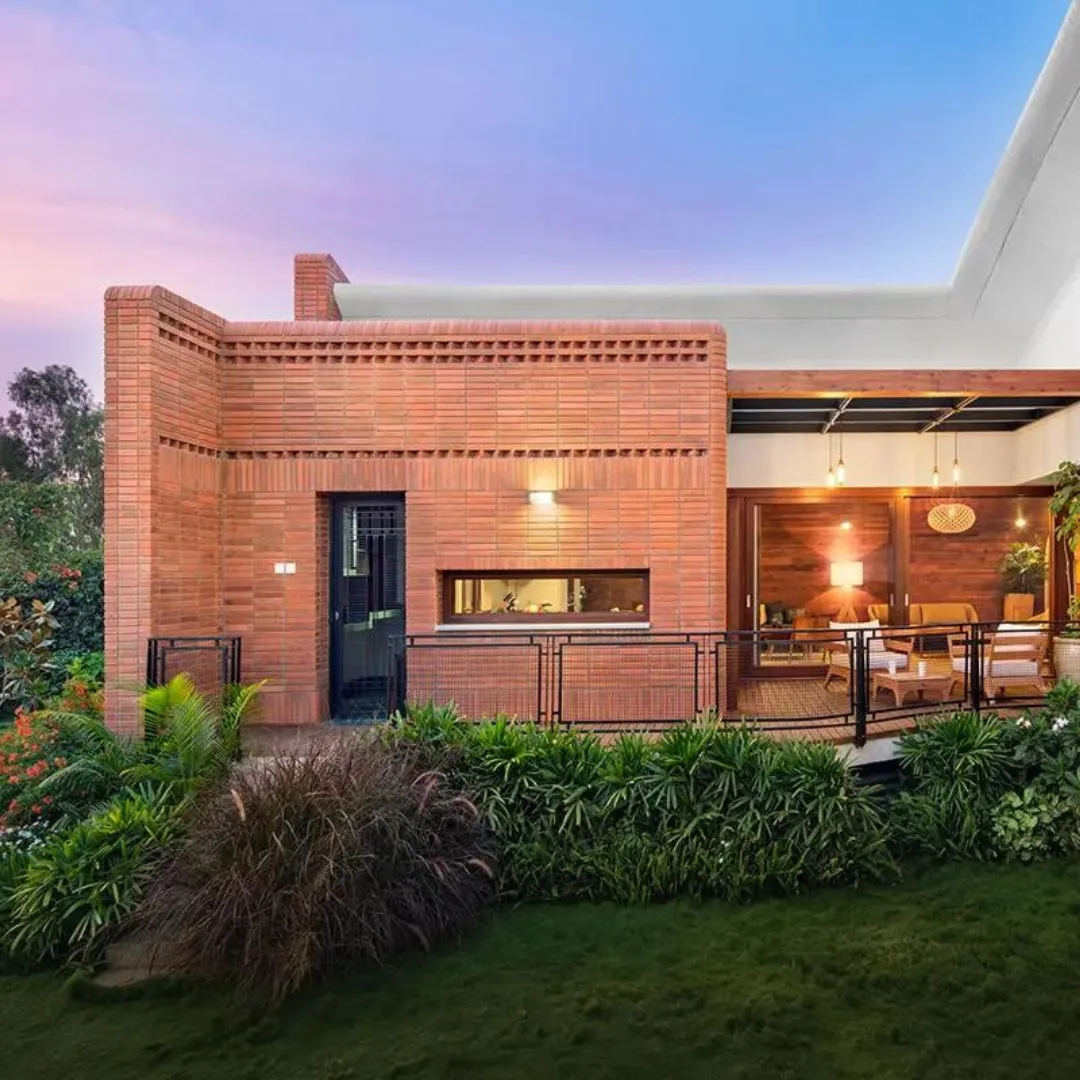 Total Environment introduces a new residential After the Rain ultra-luxury villa project in Yelahanka, Bangalore. After the Rain homes map out two offers that are V30 (3-bedroom villas Area of 3200 sq. ft.) and V50 ( 4-bedroom villas Area of 5120 sq. ft.) types villas with most living spaces opening onto the garden, Total Environment After the Rain homes are designed as earth-sheltered homes and landscaped roofs, including effective and natural soundproofing, reduced rainwater run-off, increased groundwater replenishment, minimal maintenance requirements, and balanced temperature variations in the spaces. However, the price of V30, Phase 2a begins at INR 5.34 Cr and V50, Phase 2C price start onwards from INR 7.72 Cr. In-built material is selective and gives a warm texture to make you feel warm while winter and give a relaxed environment while summer.
Total Environment After The Rain most awaited project because of the most sensitively-designed earth-sheltered homes with green roofs that celebrated nature at its finest. The foyer connects to the living, kitchen, and dining which are located at the ground level and two bedrooms are configured at each upper and lower level. The design will tell you that the master room on the upper side with a terrace garden that seems overlooks the pool in the courtyard. Moreover, the basement of these homes is about 400 Sq, Ft. (Approximately) The villa is configured with an elegant design and you will find each villa has its own transition. The team of architecture experience preferred the methods and they give you a warm welcome with enough light and ventilation to make you more healthy.
North Bangalore and Yelahanka becoming one of the most well-established areas. This advantageous place is a good choice for investment purposes and self-use.
The location is very close to Yelahanka, the International Airport Hebbal
A good network of health facilities, schools, and many more amazing neighbourhoods.
Ample green area due presence of several parks such as Ganesh Park and Kogiliu lake walk park.
Total Environment lineup with many offers and complimentary services
Designed to ensure maximum space and minimum walls.
Earth-sheltered Homes have a Green Roof that Replaces the Green Cover
Availability of Home Automation
100% Power Backup Plan
Main Door Locks With Biometric Approach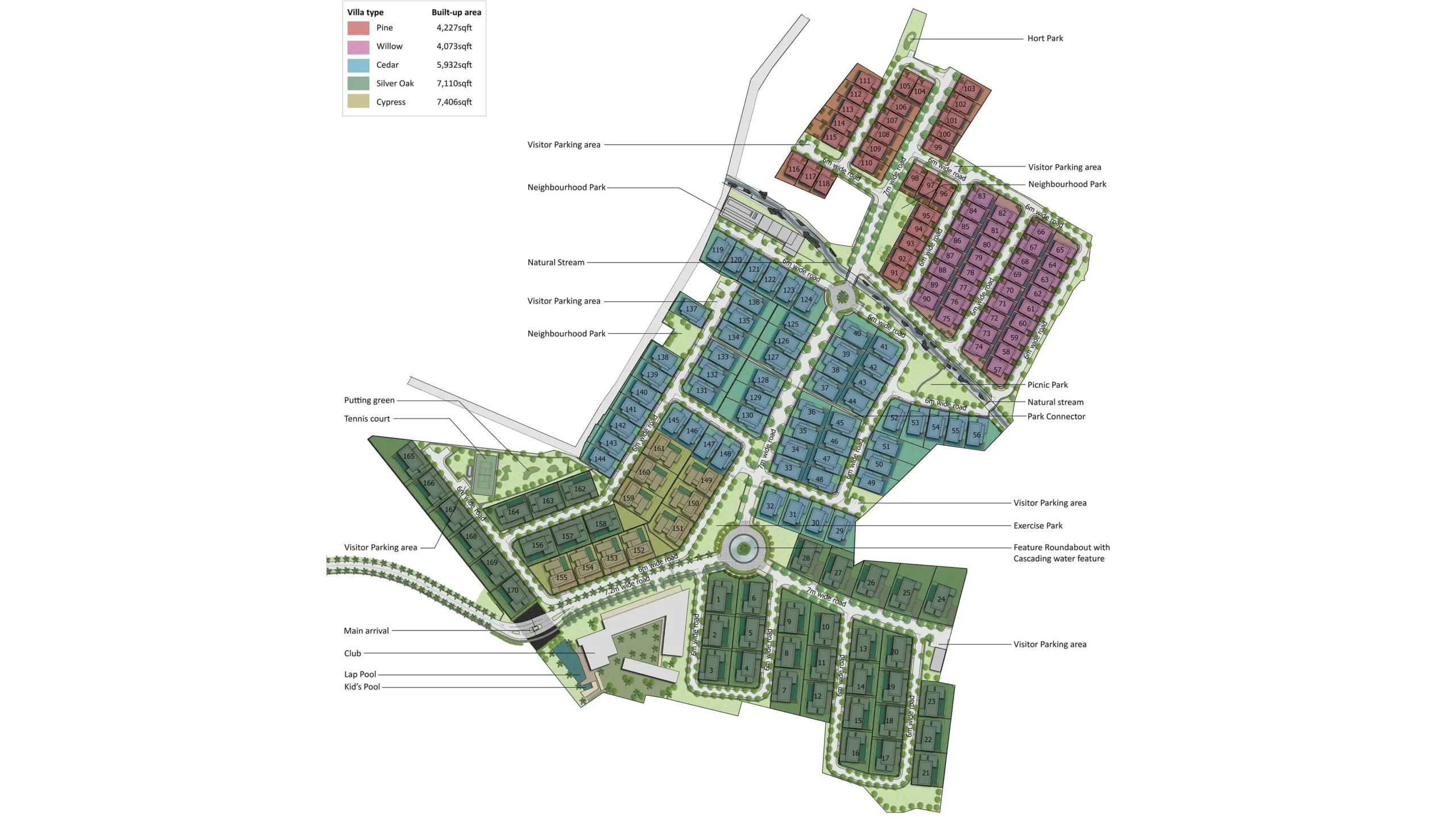 After the Rain is located in Northern Bengaluru and very close to the Airport and about 14km from the city Centre. For economic purposes, the government is actively promoting North Bengaluru. The area is well-known for housing several defense establishments, including BSF Campus, CRPF Base, and Air force Station. However, numerous residential developments in various phases of development are present in Yelahanka and the area around it.
H 44 is just 10.1 km away

CMR University Main Campus is just 12.3 km 

Within 12.4 km, reach Kempegowda International Airport 

Hebbal Railway station is just 16.4 km away 

Elements Mall is just 19.8 km away
Frequently Asked Questions (FAQs)
What is the land area of the Total Environment After The Rain Project?
After the Rain by Total Environment spread across 57 acres (Approximately) of land area.
How many different types of villas are in the After the Rain by Total Environment?
Total Environment After the Rain offers 3 BHK Sheltered Earth Villas with 3200 Sq. Ft. and 4 BHK with 5120 Sq Ft.
What is the price of villas of After the Rain Total Environment?
The price of  After The rain Villa V30, Phase 2a begins at INR 5.34 Cr and V50, Phase 2c price start onwards from INR 7.72 Cr.
What is the exact location of the After the Rain Total Environment Project?
The After the Rain Total Environment Villa project is located off Bellary road. It is located in a very serene area and close to Yelahanka in North Bangalore. 
How many villas does Total Environment After the Rain offers?
After the Rain by the Total Environment project offers 357 earth-sheltered villas.
What is the impact of an unhealthy environment in our society?
Respiratory illnesses and diseases, mental discomfort, and many more health issues. Total Environment projects' concerns pertain to environmental changes.
RERA No.- (Phase 1:PRM/KA/RERA/1251/309/PR/171014/000483, Phase 2a:PRM/KA/RERA/1251/309/PR/180519/001763, Phase 2b:PRM/KA/RERA/1251/309/PR/191015/002923)